Information & Road Work Signs
Information Signs are Generally RECTANGULAR
Entrance into a controlled parking zone

End of controlled parking zone

Entrance to congestion charging zone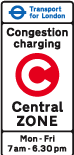 Advanced warning of restriction or prohibition ahead

Parking place for solo motorcyclists

With-flow bus lane ahead which pedal cycles and taxis may also use

Lane designated for use by high occupancy vehicles (HOV)

Vehicles permitted to use a HOV lane ahead

End of motorway

Start of motorway

Appropriate traffic lanes at junction ahead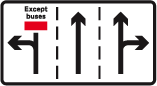 Traffic on the main carriageway coming from right has priority of joining traffic.

Additional traffic joining from left ahead. Traffic on main carriageway has priority over joining traffic from right hand lane of slip road.

Traffic in right hand lane of slip road joining the main carriageway has priority over left hand lane.

Motorway exit countdown markers. Each bar represents 100 yards to exit.

Traffic has priority over oncoming vehicles

Hospital ahead with accident and emergency facilities

Tourist information point

No through road for vehicles

Recommended route for pedal cycles

Home zone entry

Area in which cameras are used to enforce traffic regulations

Bus lane on road at junction ahead

Road Works Signs
Road works ahead

Loose chippings

Slow. Wet tar

Temporary road close

Slow moving or stationary works vehicle blocking a traffic lane. Pass in direction shown by arrow.

Mandatory speed limit ahead

Road works one mile ahead

End of road works and any temporary restrictions including speed limits

Signs used on the back of slow moving or stationary vehicles warning of a lane closed ahead by a works vehicle. There are no cones on the road.

Lane restrictions at road works ahead

One lane crossover at contraflow road works